Solar Savers - Hepburn Shire Council
For the second year in a row, Hepburn Shire Council has allocated funds to support pension and concession card holders in installing solar panels, helping them to reduce their energy bills, keep cool in the summer and lower their household emissions.
Solar Savers and Hepburn Shire Council are working together to offer pension and concession card holders a quality PV solar system with no upfront costs. We can do this by utilising a special rates charge.
What is the Special Rates Charge?
The special rates charge is a voluntary, extra rates charge added to your quarterly rates payments. Councils use this to charge specific groups or people for special services that will specifically benefit them. In this case, the service is the installation of a solar system.
By adding an extra charge to you quarterly rates payments, you can gradually pay for the cost of your solar system over 8 years (interest-free). The special rates charge is attached to your home, not you, so if you sell your home, any remaining payments will be passed on to the new owners.
Who will be doing your installation?
Quality installation of your solar system from a local installer is a key priority of the Solar Savers program. This is why we conducted a rigorous public tender process to select an installer. We assessed the safety, reliability and quality of each installer and the components they use.
With over 10 years of experience in solar power installations, we have chosen Macedon Ranges Solar Power as your local solar experts.
What solar system will you receive?
The Solar Savers program provides you with industry leading components – for panels, inverters and framing – at cheaper than usual prices.  Through this program you are installing one of the best quality systems on the market.
Risen Solar Panels
Tier 1 solar panels with a 15 year product warranty.
Certified to withstand severe environmental conditions and excellent low irradiance performance.

Manufactured in China, with offices in Melbourne, making them contactable in Australia.

 
Solis Inverter
Extremely reliable inverter.
Manufactured in China
CEC approved.
Basic model inverter that performs well with an impressive track record
Ten-year warranty.
Huawei / ABB Inverter
Both inverters are CEC approved.
ABB is compact, lightweight and Italian made.
Huawei has effective wifi monitoring and is manufactured in China.
Both come with a 10 year warranty.
Your solar panels will come with a 15 year product warranty and inverters with a 10 year warranty. Your installation will also come with a 10 year workmanship warranty. 
How much will my system cost?
| System Size (kW) | Total installation Cost (excluding Victorian Government Rebate) Risen Solar Panels + SOLIS inverter | Total installation Cost (excluding Victorian Government Rebate) Risen Solar Panels + Huawei OR ABB inverter |
| --- | --- | --- |
| 3 | $4300.50 | $5000.50 |
| 4 | $5367.00 | $6167.50 |
| 5 | $6434.50 | $7234.50 |
How much will I pay?
For example, if you purchased a 4kw system with a SOLIS inverter for $5,367, the Victorian Government rebate would reduce the price to $3,479. Paying off your system over 8 years would add approximately $108 to your quarterly rates payments.
Are there any other costs?
Your electricity company will charge you a one-off fee to connect your solar system.
The amount depends on your electricity company and where you live, but it is usually between $50 and $150.
For most households, this is the only extra cost. However, in some cases, costs are higher:
If your household has two meters, the connection fee can be much higher – from $350 to $700. If your home has two meters, ask your electricity company how much the fee is before you proceed.
If your switchboard isn't suitable for solar and needs to be upgraded, this can cost approximately $1,000. That's why we've asked you to tell us now what kind of switchboard you have. If you need an upgrade, this cost can be added to your loan with council.
If there is asbestos around your switchboard that needs to be removed, this also adds to the installation cost and can be applied to your loan with council.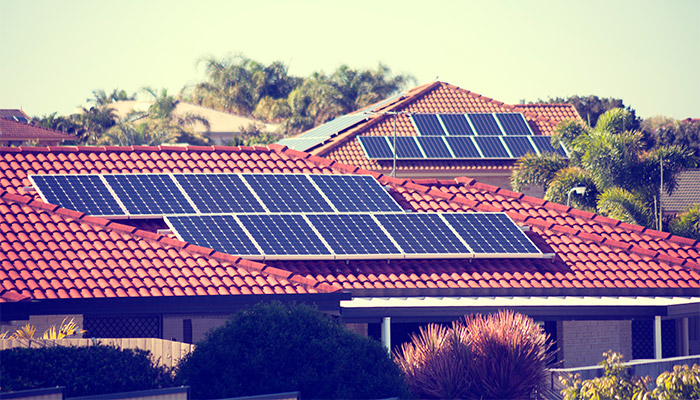 Call us on 1300 548 598 or register your interest above.