Long term solar planning with Chris from Yarra Ranges
As is the case with many households installing solar though the Solar Savers program, when speaking with Chris from the Yarra Ranges recently, he explained to us that his family decided to install solar "mainly to reduce the carbon footprint of the household and save a bit of money … we've been here 20 years, but it's just been too expensive." Chris wanted to make the best decision for his home, so along with receiving a quote through Solar Savers, he "also compared with a couple of other companies as well", finally deciding to proceed with eko energy and Solar Savers because "I wanted to be able to go back to the company in 10 years' time, to talk about an upgrade, talk about improving the system … I just wanted to know that they'd still be around, a lot of companies come and go in this industry." 
Chris also discussed with us his long terms plans to help make the most out of his new rooftop solar, "what we want to do, is to move everything onto electric, and then try and run things during the day to maximise the value of the solar we are generating. We also bought a reverse cycle air-conditioner, had it installed at the same time." These larger changes, such as converting to electric heating and cooling, can make a big difference to utility bills. Chris predicted that by shifting more of their energy usage to electric, his savings would increase even further. "If we can eliminate gas by changing across to electric appliances, then we are going to save another 3,4,5 hundred dollars per year, from not having the gas service at all. So that's the plan."
The reassurance from eko energy on the longevity of their company was a key deciding factor for Chris. When it came time to have his system installed, Chris described the installation as "quick and efficient … done really well, no dramas at all".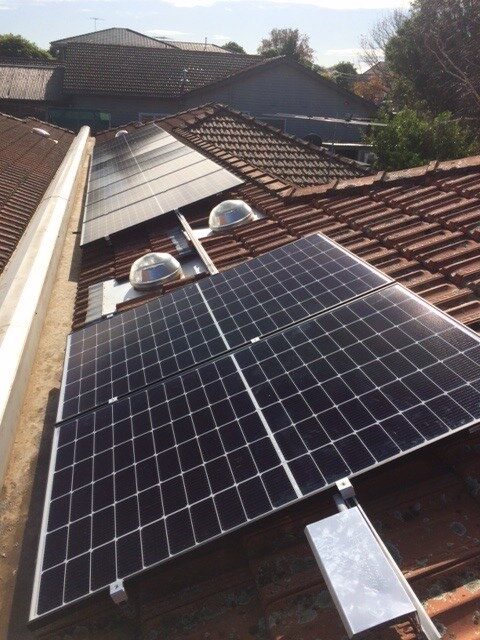 Luise first heard about Solar Savers through an advertisement in the Glen Eira News. Luise thought this was a great opportunity, knowing that there was a "partnership" between Solar Savers and her local council.
Harnessing natural resources in Glen Eira
Glen Eira resident Luise has been interested in powering her home by solar for many years but was put off by the costs and uncertainty in the industry's early days. Fast-forward to 2020, and Luise's interest in 'harnessing natural resources' has been realised as she recently installed rooftop solar through the Solar Savers program. For Luise, the benefits of the Solar Savers program were clear: 'all of those difficult decisions, [Solar Savers had] already thought about, so I didn't need to think about them as well'. With so much information online, on the tv and in the newspapers, it can be difficult to navigate the world of solar and decide what's best for your home. Luise explained to us 'knowing that people with more expertise than me had been thinking about these things' made the process and decision to install solar easy. On top of this, the partnership between her local council and Solar Savers gave her further reassurance.
Along with installing solar, minimising waste and sharing resources was important to Luise, who recently started mulching food waste to use on her garden, and is involved in Glen Eira Food Swaps. To see what other sustainability initiatives your council is involved in, visit their website and look for the environment or sustainability tab!
Diamond Creek family install rooftop solar through the Solar Savers program.
When Nillumbik family of four considered installing solar 4-5 years ago, the technology available meant that shading caused by the beautiful surrounding trees would significantly decrease the productivity of their panels. Also, at that time, the family weren't often home during the daytime, and so for them, the benefits didn't stack up. Fast forward 5 years, mum and dad now work a few days per week from home and new technology means that some shading won't impact the productivity of their whole system.
"Environmental concerns, wanting to impact our footprint, also wanting to save money" were the main reasons this family wanted to install solar. They are currently waiting for their first electricity bill since installing in February, however, based on predictions that they will be saving approximately $1,000 on electricity bills per year, "it makes perfect sense".  Solar Savers will be doing a before and after comparison of their bills soon, so stay tuned! When reflecting on their experience with Solar Savers, the family commented that "It was good to go through something that you could tell was approved, and councils had given it their stamp of approval". When doing their own research on the products used by eko energy, they found that "all the warranties were legit[imate], better than what I was reading was the bare minimum of what you should expect. When they ticked all those boxes, I was like yes, it's a good deal."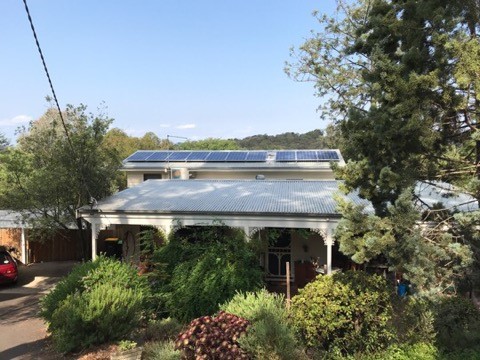 Diamond Creek home with recently installed rooftop solar. Homeowner explained, "It was good to go through something that you could tell was approved, and councils had given it their stamp of approval as well. I feel like I was safely handed over to the installers, eko energy."
Banyule home installs solar to reduce carbon footprint and lower utility bills.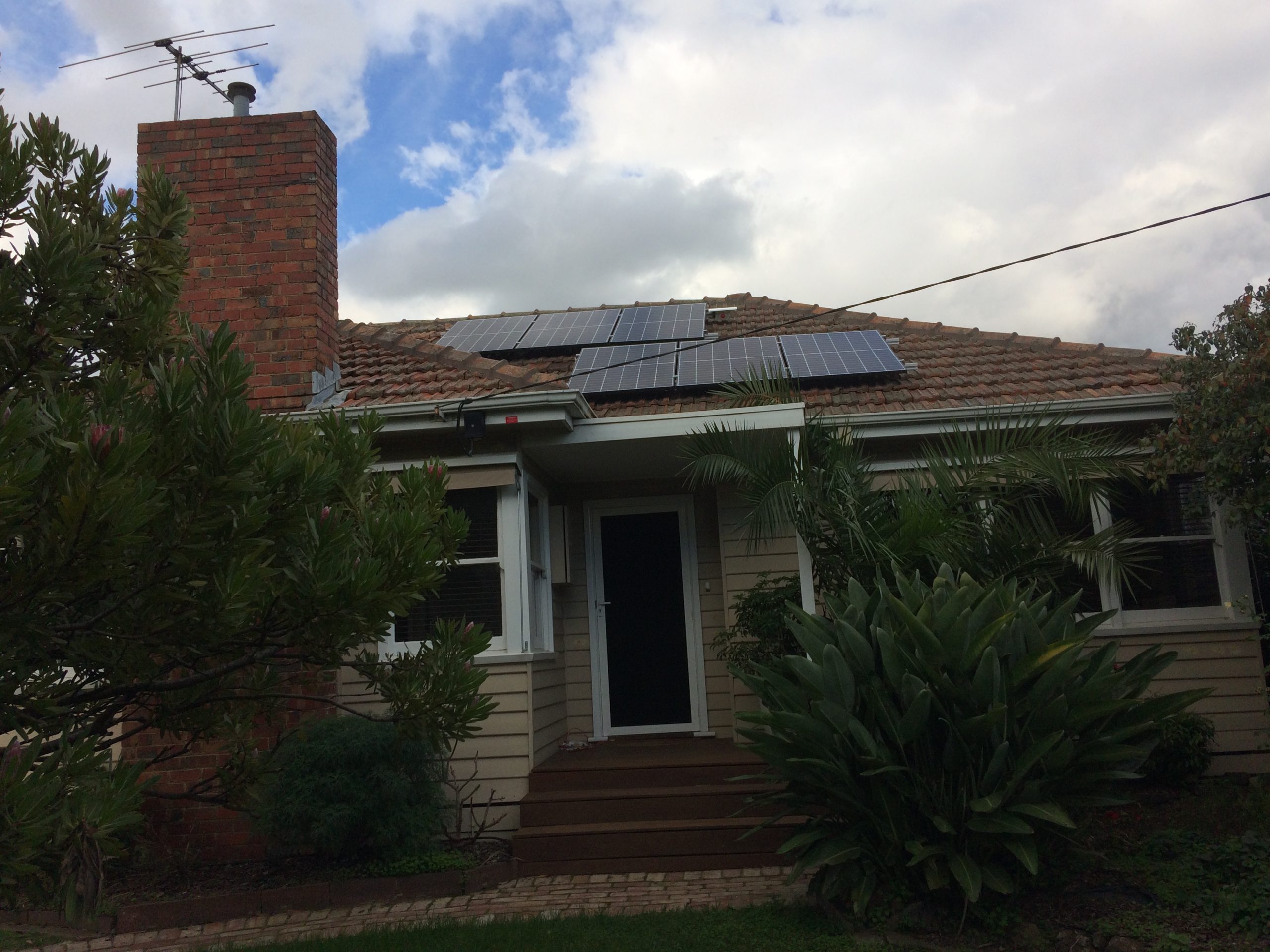 Some of Banyule resident Emily's new solar panels. She shared with us the benefits of installing through the council backed Solar Savers program, "That was huge for us, that we could call, if we had any issues, we could call council. We knew we had that extra weight behind us if something went wrong. So that was really good."
We recently had the opportunity to speak with Emily from Banyule, who had rooftop solar installed on her home through the Solar Savers program in April.  When asked why they decided to install solar, Emily explained that "from an environmental perspective, we've been interested for many years … the two main reasons were environmental but also financial."  In an effort to further reduce their utility bills, the Ivanhoe family have also installed thermal curtains in their living areas and retrofitted their weatherboard home with new insulation.  
Emily shared that her and her husband had spent some time researching different energy saving options, and that when it came to solar "there's lots of advertising that goes around … I was getting confused and, my husband and I, we were weren't sure who to go with." After reading about Solar Savers in the Banyule Banner, Emily attended a council run information session: "it answered all my questions, it was great to talk to a third party, that was independent of the people who are trying to get our money. Independent advice and it's from the council so its credible and that was really reassuring."
Now a couple of months in the future, Emily explains how she has changed small aspects of her daily life, to make the most out of their solar: "we've changed the time of when we put things on … from the data that we've seen, were generating fairly good amounts from 11:00 am onwards, so I'm trying to put the dishwasher on around lunch time and the washing machine a little bit later as well." Emily also mentioned that she has started cooking more with her slow cooker, "it runs off electricity, so I do the cooking during the day, it means I'm not using the gas at night", although she's not sure how long this new cooking style will last!